About the Pokerroom:
PKR Poker is very especial Pokerroom. Since 2006 in the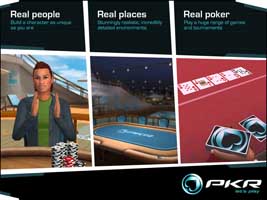 market, PKR is offering a 3D Poker. PKR is a standalone Pokerroom,  ~ 450 real money players are online.

Offered Service:
The figurehead of PKR Poker is their 3D Software where users can play Texas Holdem and Omaha.  They have lower stake,  more popular are the low and midstakes til $50,00 and because of the PKR Pker is very interesting for newcomers. It is possible to play 4 tables the same time. With one software download you can also play PKR Casino.

Bonus:
Currently PKR is offering 3 first depositor boni from $5,00 up to $500,00 (125%) plus a $2.500,00 Freeroll Tournament.
Click on the banner to get your bonus!